Heavy Sludge Metal Fusionists PACHIDERMA Share Brand New Video From Upcoming Album!
Italy's extreme sludge and stoner metal trio, PACHIDERMA, who just recently announced their worldwide signing with powerhouse label Argonauta Records, have served a first taste of their upcoming debut album. "Il Diavolo, La Peste, La Morte", a one-track concept album which is divided in three acts, will be released as Vinyl only on November 19, 2021.
Recorded during the summer of 2019 in a "one shot-weekend" session by Andrea Lenoci at Molotov Recordings, PACHIDERMA's first album is heavily inspired by the philosophy previously issued in Bergman's filmography. Both from a musical and philosophical perspective, the bands adds a unique touch to their sound while combining various movie samples and vibrant effects, inspired by dark myths and reality of humanity, yet driven by the soul of heavy stoner rock and sludge metal. Their enthralling fusion of monolithic and brutal- heavy sounds with a haunting visual concept, makes PACHIDERMA's first output most likely one the most exciting record releases the heavy scene will get to hear by the end of this year!
Today, the trio released a first song and trippy video for the first album chapter, "Il Diavolo". Imerge into the dystopian, disturbing yet gripping sound world of PACHIDERMA, and watch their new clip right here:
As the band revealed earlier: "Il Diavolo, La Peste, La Morte is about the questions that possess minds, but can't be answered. The consequences are void."
PACHIDERMA's debut will be available on November 19, 2021, as a strictly limited Vinyl edition. The pre-sale just went up at THIS LOCATION!
"Il Diavolo, La Peste, La Morte" Tracklist:
1. Intro
2. Il Diavolo
3. La Peste
4. La Morte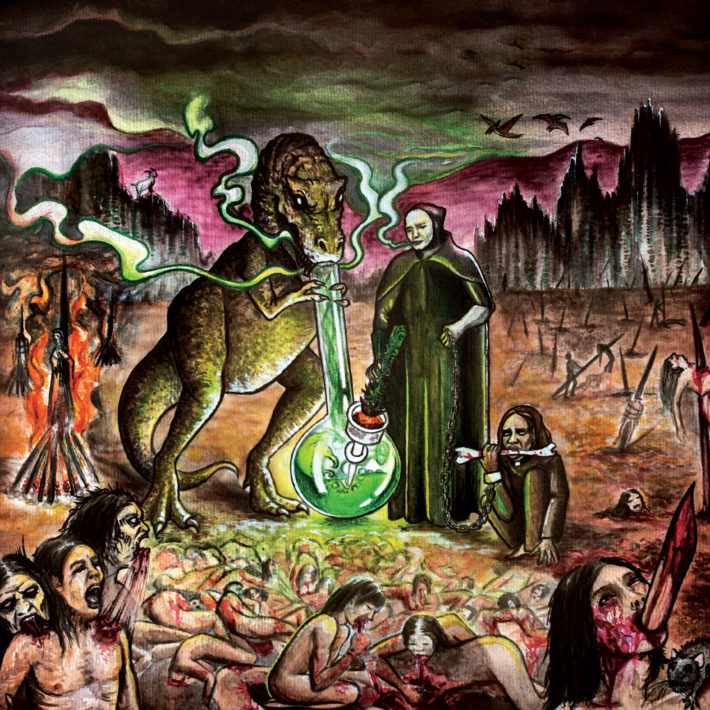 [ Artwork hand painted by Daniela Libero ]
For More Info Visit:
www.facebook.com/pachidermaofficial