Austrian Occult Rockers DUSK Announce "Wheels of Twilight" Full Album Details and Release New Single "The Dagger"
After their recent signing with ARGONAUTA Records and the release of their single "Wendigo", which is receiving a large appreciation by the whole community, Austrian Occult Rockers DUSK reveal full details of their highly anticipated album titled "Wheels of Twilight".
Says the band: "Have you ever asked yourself what hell is like when all demons are already dwelling on earth? What appears as good to the eye of the beholder may not be what it seems. The core might differ from its vessel. The evil, repelled and damned to wander in the dark, hold a spark of light within. Both shadow and light wrap their virtues to create the 'Wheels of Twilight'."
"'Wheels of Twilight' sets its eyes on niches where twilight is nesting and veiling what we comprehend as good or evil." They continue. "It's lifting the veil, depriving faces and creatures of their mystique, and setting their true nature free."
DUSK's first full-length is a path through the depths and pits of human existence, a ride on the horses of the utter end to break the four seals of deliverance.
Today, the band is excited to introduce you in the realm of their new single "The Dagger": "Can you remember when you first felt that moist, foul breath in your neck, the too-sweet message brought to you? That demon's most deceiving voice, whispering cunningly into your oh-so-lie-receptive ear—the promise to break the chains that enslave your heart and seal away your true desires. In your mind, you can already see those chains lying broken at your feet. You can breathe freely for the first time, let your mind rise, and ascend to higher grounds. Oh, the scent of freedom is the most intoxicating drug of all. Its lovely odor playfully dazzles your mind even in the darkest of times, an everpresent memory of a new dawn to come—nothing more than a dream, an offer, the deceiver's luring promise. Will you accept? Accept to be a god among the insects, thrive while others perish, and grasp the true nature of the infinite cosmos. Then open your mind and offer your blood to seal the deal and be deceived for better or for worse by THE DAGGER."
"The Dagger" is streaming now as a YouTube premiere and available from July 7th on all digital platforms, give ear:
The album "Wheels of Twilight" is set for an October 6th release on CD, VINYL and DIGITAL, via Argonauta Records, preorders opening soon.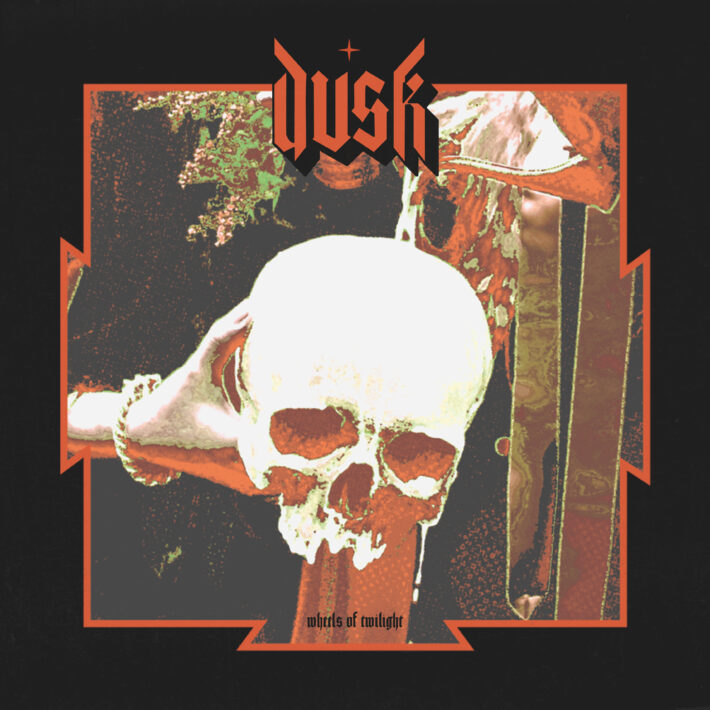 Tracklisting:
1 Wheels of Twilight
2 Wendigo
3 The Dagger
4 Empress of the Emptiness
5 Shapeshifter / Driving My Love Away
6 Inquisitors of the Mountain Cult
7 The Wan Four
DUSK are:
Denika Denkmair – vocals
Sebastian Raubitzek – guitar
Christian Pichler – bass
Stefan Höfler – drums
INFO:
https://www.facebook.com/dusk.heavy.rock
https://www.instagram.com/duskcultofficial/
https://duskheavyrock.bandcamp.com/