Sludge & Stoner Metal Juggernaut SUNCZAR Shares Album Details & Brand New Music Video!
Following their critically acclaimed 2020- debut EP, The Unveiling, German- based sludge and stoner metal force SUNCZAR is gearing up for the release of their first full- length album, entitled Bearer Of Light, which will be coming out on January 21, 2022 via Argonauta Records.

Driven by big riffs, vibrant grooves and a straight, crushing sound, SUNCZAR showcases monolithic heaviness combined with atmospheric passages and dynamic vocals, leading you on a wild, sludge soaked ride. Formed in 2019 close before the world went into the dark, dedicated to the myth of a savior, ruler of the sun and everything beneath, with their enthralling sludge and stoner groove metal SUNCZAR delivers a perfect soundtrack between the light and dark. Today, the four-piece shared a first song, the album title track "Bearer Of Light"! Watch their brand new video clip right here:
"We're totally stoked to release our debut album via Argonauta Records", guitarist Alexander Vogt states. "Like for any other artist, the past months were pretty tough with no chance to get the train rolling – especially as a new band. So the more we're excited to show the world the title track of our forthcoming debut album "Bearer of Light" as well as the video – produced by our good friend Nils bringing life into the killer artwork designed by MontDoom."
He continues: "The song should catch the listener right from the start and drag you close into a sphere of rising power and determination. Like the dawn of a new day breathing life in all shades of bleakness. It was our aim to obtain that feeling through the whole album – expressing how we felt – vital and ready to leave a sonic impact. Expect instant catchiness, big riffs and a crushing groove side-by-side with dynamic vocals forming a heavy and sludgy groove metal soundtrack.
If you're into stoner/metal/sludge music, you should definitely give it a spin!"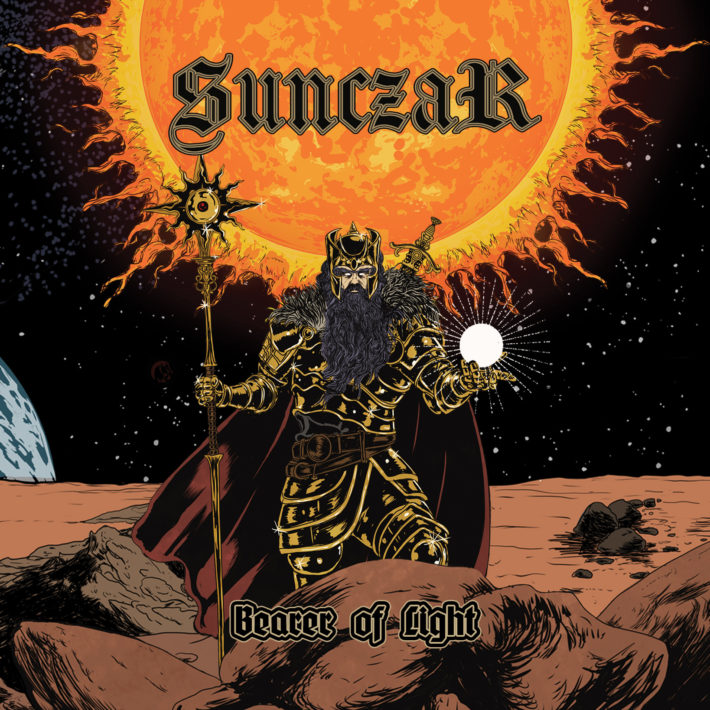 Album Tracklist:
01. In Lux Veritas
02. Bearer of Light
03. Apathy of the Forsaken
04. Heresy
05. Blackness
06. Behold Your Savior
07. Through This Hell
08. Back to Shadows
Bearer Of Light will be out as LP, CD and Digital formats on January 21, 2021. The pre- sale will be available via Argonauta Records soon!
For More Info Visit:
www.facebook.com/sunczarmusic
www.sunczarmusic.bandcamp.com
www.instagram.com/sunczarmusic
www.argonautarecords.com
SUNCZAR is:
Krsto Balic – Vocals
Alexander Vogt – Guitars
Wassilios Gouziotis – Bass
Daniel Kirch – Drums