MITOCHONDRIAL SUN new EP full stream premiere; NIKLAS SUNDIN exclusive interview!
MITOCHONDRIAL SUN, the ever-changing solo-project by Niklas Sundin — best known as a founding member and guitarist of Swedish metal icons Dark Tranquillity — is gearing up for the release of his brand new EP entitled Bodies And Gold!
After 15 albums as a metal guitarist, with MITOCHONDRIAL SUN Sundin started his first public forays into different musical realms, and he doesn't show any signs of slowing down anytime soon: Following his 2020- solo debut and the critically acclaimed Sju Pulsarer not even a year later, the multi-instrumentalist is about to release his new EP in a couple of days through Argonauta Records.
The Bodies and Gold EP features six tracks of dystopian electronic music in a wide variety of moods and will be released on September 10 on all digital formats. The already sold-out limited edition vinyl version is (as those who pre-ordered it already know) somewhat delayed due to the supply chain problems that the whole vinyl pressing industry are experiencing.
We're excited to share with you this interview we run with Niklas himslef, speaking on the current work, future project and more:
What can you tell us about the new EP "Bodies and Gold"?
Well, musically speaking it's more similar to the debut album than the "Sju Pulsarer" follow-up. The six songs are pretty different from each other in terms of style and mood, but I guess that they all fit under the "atmospheric electronic music" umbrella. As with the debut album, there are some real instruments like cello and grand piano in there as well to provide contrast. All in all I'm very pleased with the result.
Why an EP and not a full length album?
The songs were ready, and I thought that they flow together perfectly in this format, so there was no need to make this particular record any longer. Technically speaking, the playing time is just a minute or two shorter than "Sju Pulsarer" – which is labeled as a full length album – so the borders are a bit blurry.
What started like something it looked as a very intimate and experimental project it quickly arrived to the third release in a very short time. and we can say it is definitely more than something temporary. What is Mitochondrial Sun today?
It developed into my main musical outlet for sure. Since I'm not playing live and don't have to think in terms of touring cycles or releasing albums when the market says that the timing is optimal, I'm free to just focus on what I've always found to be the most interesting aspect of being a musician: making music. A regular band on a mid-to-high level usually can't release albums more often than every 2-3 years since every release needs to be milked to its full potential with extensive touring. With Mitochondrial Sun, I can just focus on writing songs without having to think about anything else.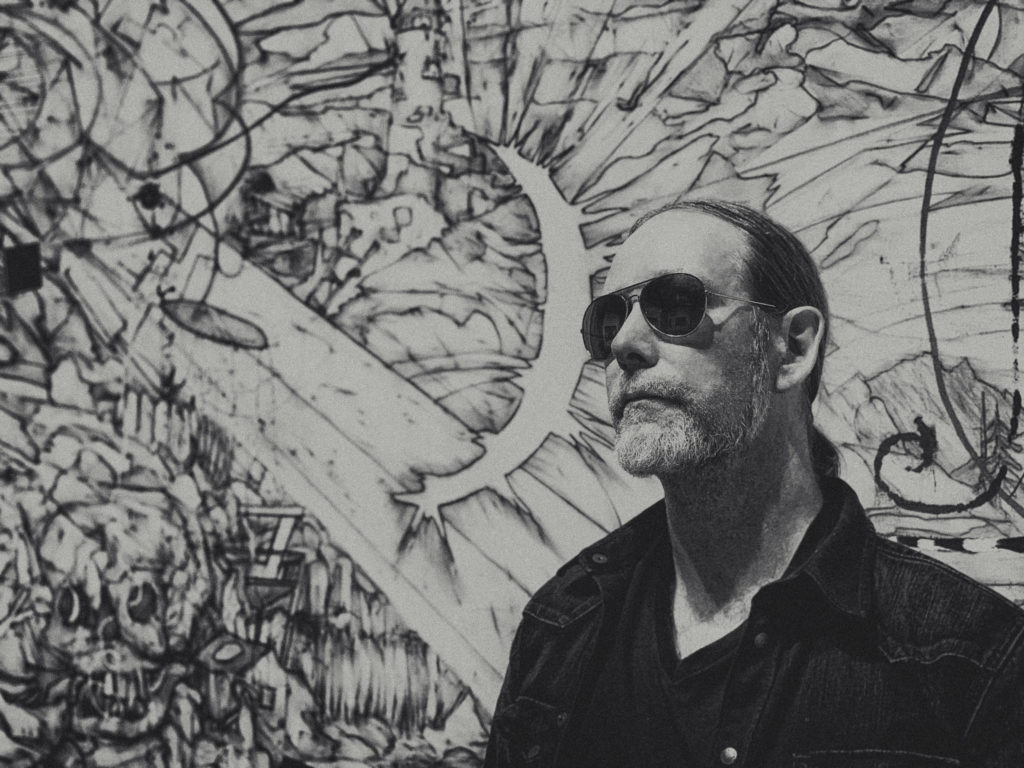 As a graphic designer, can you tell us some clues about the artworks of the three releases on Argonauta? is there any connection between them for example, or they just reflects the mood of the albums?
I wouldn't say that they're connected as such. Since the music on the three releases is so different from each other, I mainly wanted the visuals to reflect the content on each album. The common denominator is the logo and font (which will remain the same on all Mitochondrial Sun releases), but otherwise I just create artwork and designs that match the sound. The debut album was very carefully arranged, with a lot of attention to detail, and the concept was also a lot about seeing things on a micro level, so that kind of close-up illustration was a good fit. "Sju Pulsarer" was more wild, and in my head like a cosmic storm, while still retaining the organic and human outlook, so then it worked well with the abstract "muscle sculptures" floating in space. As for the new EP, I kind of had to include gold colour in the design due to the title, and since the music again is more introspective and carefully crafted, I made a regular drawing.
Any plans of playing live with Mitochondrial Sun?
Never say never, though I'd say that it's unlikely. I never loved being on stage to begin with, and it'd require so much time to work out a format for presenting this music in a live setting (since everything is made in the studio). It wouldn't make sense to just have me onstage with a laptop and guitar, so something more elaborate is needed, involving more musicians and a proper stage setup with custom lights and maybe projectors. As much as I think that the result could be interesting, I'd rather spend the time on making new music instead.
Can we say you already have or working on something new we can expect in the new year? And what direction will MS take this time?
I'm constantly working on music whenever time permits, but it's a bit early to know for sure when something new will be released and what direction it'll take. My studio computer is filled with ideas for anything from soft ambient songs to distorted noise explorations and everything in between, so it's more about deciding where to go next and then put together the ingredients into something that will make sense as a coherent album. There are also some collaboration projects that I'm very excited about, but I'd rather not say too much before there's some actual music to listen to. However, I'm sure that there will be at least one Mitochondrial Sun release in 2022.
MITOCHONDRIAL SUN's core of the music is an electronic and instrumental affair, that ranges from quiet meditations on space and time to relentless cosmic storms; from a sonic journey into fast, urgent and chaotic songs of the bleakest black metal sound, yet MITOCHONDRIAL SUN is full of emotionally charged melodies and atmospheric soundscapes lurking beneath the surface. Falling somewhere in between the contemplative and moody debut album and the intense Sju Pulsarer successor, each song – from the cinematic and slow moving opener to the industrial full-throttle closing track – differs a lot from each other in style, but share the same vibe: Dystopian and cold, yet organic and occasionally hopeful.
Find out more about MITOCHONDRIAL SUN at:
www.mitochondrialsun.com
www.facebook.com/mitochondrialsun
www.mitochondrialsun.bandcamp.com
www.argonautarecords.com