Japanese Doom Metal Trio HEBI KATANA Announces "Impermanence" international-edition via Argonauta Records!
Tokyo, Japan-based doom metal trio, HEBI KATANA, has announced the worldwide release of their latest, sophomore studio album, Impermanence. Following an exclusive Japanese edition, the album will be released on June 24, 2022 via Argonauta Records!
HEBI KATANA was formed in 2020 in the midst of the pandemic. Of what started in extensive jam sessions and first demo recordings on an iPhone, should soon become a monolith of a heavy doom debut, when the trio took the heavy music community by storm with their self-released album. In 2021, the Samurai doomsters teamed up with the Italian powerhouse label Argonauta, who released their first full-length album as a part of the Argonauta LTD100 Vinyl-series.
While HEBI KATANA's second album, Impermanence, was distributed earlier this year, in February via Unforgiven Blood Records (Disc Union) in Japan, heavy and classic doom metal fans, who have a soft spot for 70's vintage rock, dark melodies, big groove and a hint of grunge, should give ear and watch out, when Impermanence will be available in the rest of world this summer! To get you in the mood, the band has just unleashed a music video for Pain Should I Take, watch the clip right here:
Impermanence was recorded by HEBI KATANA at studio Koyama and Yasuzo place in Koenji, and was produced, mixed and mastered by Yukito Okazaki (Eternal Elysium) at studio ZEN.
For more info, visit the band and label at:
www.argonautarecords.com/shop
www.facebook.com/argonuatarecords
www.instagram.com/argonautarecords
www.hebikatana.bandcamp.com/album/hebi-katana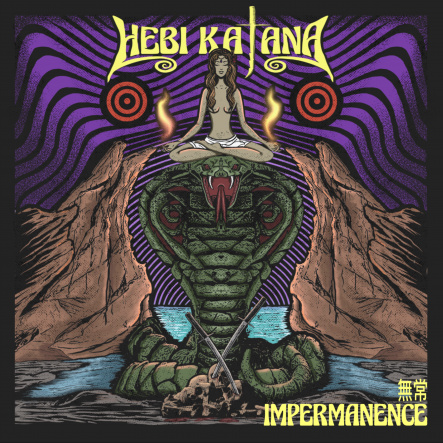 Impermanence track listing:
01.Dirty Moon Child
02. Pain Should I Take
03. Devastator
04. Unforgiven Blood
05. Aqua De Vida
06. You Don't Lie
07. Running In My Vein
08. Take My Pills
09. Underneath The Sky

HEBI KATANA is:
Nobu – Vocals, Guitar
Yasuzo – Bass
Max – Drums