REDWOLVES reveal album details
Copenhagen based Heavy Psych Rockers REDWOLVES, who just recently announced the signing with powerhouse label Argonauta Records, have revealed the first details about their upcoming debut album! Titled 'Future Becomes Past', the band's first full-length will be seeing the light of day on March 15th 2019.
After the release of their 2016-EP 'Walking Roads', a feisty show of REDWOLVES' particular approach to modern sounding hard hitting Rock n' Roll – fittingly rounded off by frontman Rasmus Cundell's intelligent lyrics and distinctive vocals – the Danish quartet already left a first stamp in nowadays rock scene. "This is Rock'n'Roll the way it has to be!" Argonauta's CEO Gero Lucisano confirms. "While I have listened to the songs of this awesome band the first time, I immediately thought of a modern attitude that sounds so fresh and with no compromise. What you will get here? An exciting group with their roots in Deep Purple and Thin Lizzy sonorities, paying homage to the always killer Scandinavian scene such as the Hellacopters. You have been warned!"
REDWOLVES formed in 2012 and found a musical community in their common affinity for the classic heavy rock and the 00's new wave of Scandinavian rock. The band's upcoming album will be a noticeable further development of REDWOLVES' expression which through the records' eight songs unfolds itself in a songwriting carrying catchy melodies, energetic and virtuoso musicianship and a modern and analogue attentive production by Jacob Bredahl (Riverhead, LLNN, Rising a.o.).
The band describes their music as "modern classic heavy rock" or at other times "future rock". Both terms appropriately describes how heavy Rock n' Roll effortlessly can remain relevant, as long as the classic virtues and a good dose of edge and innovation keep being present. REDWOLVES' first full-length is a complex record, that shows several aspects of REDWOLVES' talent for writing songs with both directness, catchy hooklines, dynamics and experimentation. This record will be party, light and joy, but equally despair, darkness and depression – and with good reason….
When REDWOLVES had started off the songwriting for their debut, a brutal incident occurred which was to be determining for the album. On New Years Eve 16/17, singer Rasmus Cundell was the subject of a violent attack which carved its deep traces, both personally and within the band. The event caused a delay of the creative process but at the same time, the band became an important catalyst for pulling through. The lyrics were written after the attack which therefore naturally constitutes the thematic subject matter of the album. On a personal level, the violence spawned a spiral of depressive and fearful thoughts but also on a more general level, the incident initiated a contemplation in regards to the possibilities of agency in a world that appears hostile and destructive.
Even though many of the songs origin from this depressive state, one still senses a path towards the light in the music, and it is this adamant hope that the record will remind you of. As the good sides of life can put depression, hopelessness and contingency into perspective, the negation of life can also put perspective on joy and light: "Especially because we all will perish soon, we must insist on living, partying, loving and not to be conquered by darkness, hate and destruction." The band explains. "And thus, we must necessarily seek to journey out of the dark again."
Today REDWOLVES have unveiled the album cover art and tracklist for their 'Future Becomes Past':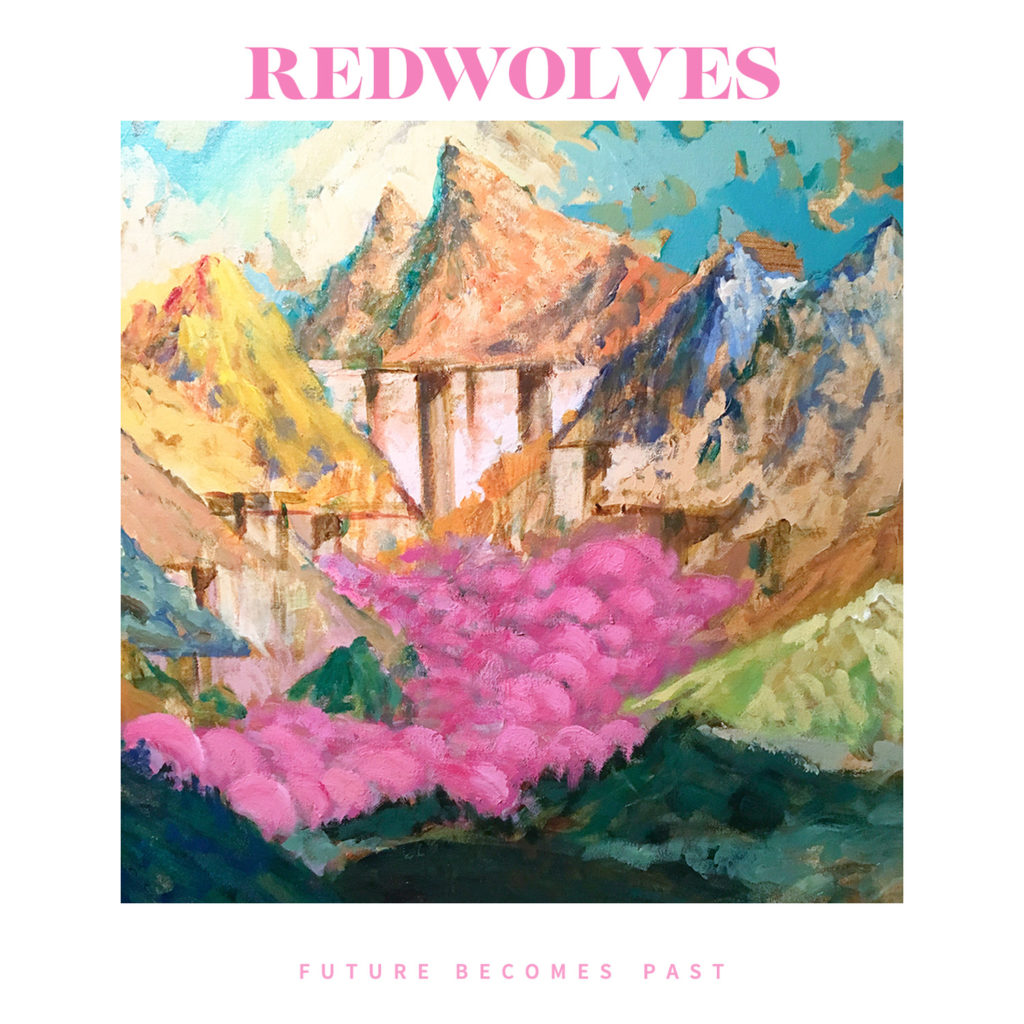 The tracklist reads as follows:
1. Plutocracy
2. Rigid Generation
3. The Abyss
4. Fenris
5. The Pioneer
6. Voyagers
7. Farthest From Heaven
8. Temple Of Dreams
Coming as CD and Digital Download on March 15th 2019, the album pre-sale will soon start on Argonauta Records, with many more news and first album tunes to follow!
For More Info Visit:
www.facebook.com/Redwolvesband
www.redwolves.dk