HEY ZEUS unveil album details
Boston-based HEY ZEUS, who inked a worldwide deal with Argonauta Records earlier this year, have finally revealed the first and hotly anticipated details about their full-length debut album! Set for a release on February 1st 2019, 'X' will continue the mission of HEY ZEUS: to save your soul with Rock and Roll! With elements of both classic and modern, gripping songs and just enough punk attitude to let you know when it's time to screw off, their stage presence and songwriting tap into something essential and primal about heavy rock and roll and leave tired crowds begging for more. With their lethal live show and deep roots in Boston Rock, HEY ZEUS' upcoming debut will deliver a high-energy approach and must-have for any heavy rock fan!
Today, the band has not only unveiled the cover artwork and tracklist of 'X', but is also sharing an appetizer with the track, 'I Don't Want It'! While you WILL definitely want it, you can now stream the song, just exclusively premiered with Distorted Sound Magazine, HERE!
Says the band: "Having a good time is our 1st priority – and we leave people no choice but to take part in it with us…We recorded and packaged up the party in "X" and we're psyched to bring the message to masses. The album covers life, death, and everything in between. "I Don't Want It" is a look at the marathon that is running from the reaper- and how imminent the end is for all of us- how nobody wants to face it, but it needs to be reconciled with in order to enjoy the time we've got. So let's do that. HEY ZEUS SAVES!"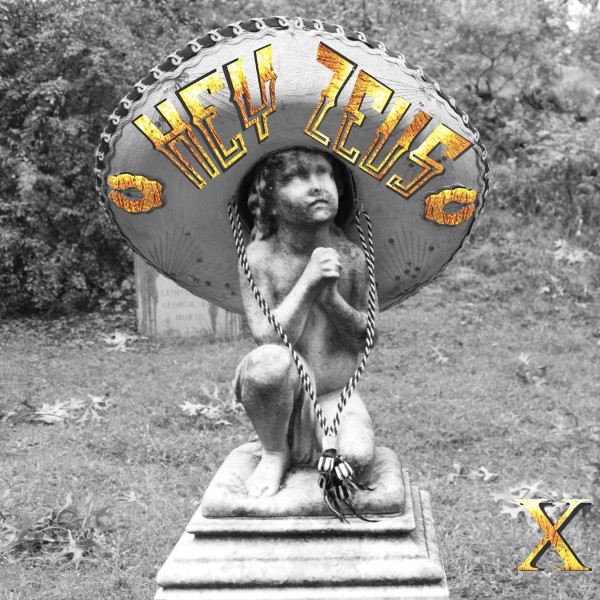 The tracklist for 'X' will read as follows:
1. These Eyes
2. Richard The Elder
3. I Don't Want It
4. X Marks The Rock
5. Gilded
6. Save Your
7. Caveman
8. Bloodsucker (Deep Purple Cover)
9. Queens
Earlier this year, HEY ZEUS premiered a video for the track 'Richard The Elder', watch it HERE!
'X' was recorded, mixed, and produced by singer, Bice, at New Alliance Audio, The Record Co. and Galaxy Park, with mastering by Nick Zampiello at New Alliance East. Being released on Vinyl, CD and Digital Download on February 1st of 2019, the pre-sale is now available in the following formats:
BUNDLES: www.argonautarecords.com/shop/en/home/318-hey-zeus-x-lp.html
LP: www.argonautarecords.com/shop/en/home/317-hey-zeus-x-lp.html
CD: www.argonautarecords.com/shop/en/cd/316-hey-zeus-x-cd.html
HEY ZEUS will be celebrating their release with a show on February 8th, 2019 at ONCE in Somerville, MA with Motherboar, Cocked N Loaded, and Labor Hex. Info and tickets HERE!