EARTH MESSIAH reveals details about upcoming album
EARTH MESSIAH, your next favorite stoner rock band hailing from Gothenborg, Sweden, have finally revealed the first details about their upcoming debut album! Titled 'Ouroboros', the power rock trio's first full-length has been set for a release on the 1st of March, 2019 with Argonauta Records.
While formed in 2017 by Mathias Helgesson (Unhealth, Ex Lawgiver) and Patrik Orrmén (ex Fuzztrated, ex Rhubarb Blues Band) , things hit off directly, the band's first and heavily fuzzy tracks seemed to come naturally as soon as the two started playing together.
With Mathias' strong songwriting skills and the pounding drive of Patriks drums in place, the search began for more band members who would share their mutual vision. In early 2018 they met up with bass wizard Marcus Hedkvist (From Soil, ex Eskatologia) and it was fuzz at first sight, thus completing the trio while Mathias took over the microphone.
Their two track demo 'Nocturnal Thoughtgrinder' was recorded in late 2017, and rendered in lots of positive feedback and interest in the band, followed by a worldwide deal with Italy's ever growing label Argonauta Records. Today, EARTH MESSIAH are finally sharing the details about their debut album 'Ourobouros' and reveal the album cover and tracklist, but also unleashing upon us a first track taken from their upcoming debut! Dive 'In The Darkness', now exclusively premiering with DOOMED & STONED HERE!
Says the band: "When we sat down to choose the first single from the Ouroboros-album we really had the luxury problem of having too many single-worthy songs to pick from. Lots of effort, blood sweat and tears had gone into the recording and mixing; and the tracks had grown very dear to us. In the end it fell upon "In The Darkness", track 5 from the album. It's the shortest song of the lot, but we felt that it really captured that raw power and impossible groove that we were striving for in the production of this record. And with the listeners of todays' limited attention span, we figured a short song was more likely to be listened to from start to finish. The song "In The Darkness" is about how you sometimes achieve great things under difficult circumstances… Like how you sometimes write a killer riff on a guitar that only has three strings… or how your depression led you to paint that fabulous painting of yours… how crippling anxiety can be turned to a force forward if you give me a bass guitar and some fuzz… Something like that. Hope you guys like it as much as we do. There's going to be a video for it early 2019!"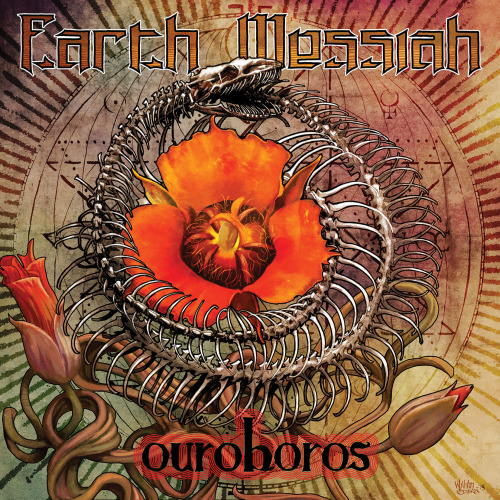 The 'Ouroboros' tracklist reads as follows:
1. Ouroboros
2. Escape From Reality
3. Attention
4. Trouble Child
5. In The Darkness
6. I Am
7. Queen Of The Land Of Tomorrow
8. Always Remember
9. Father Of Fire
'Ouroboros' will hit the stores on March 1st 2019, coming as CD, LP and Digital Download, with a pre-sale to be available on www.argonautarecords.com/shop


EARTH MESSIAH is:
Mathias – Guitar & Vox
Patrik – Drums
Marcus – Bass
EARTH MESSIAH live:
04.01.2019 SWE – Gothenburg @ Belsepub
09.02.2019 SWE – Stenungsund @ TiAmo